1 simple payment. Best Value – save US$24!
Get instant access to your 12-module program of simple, practical changes to be more productive in life and work. You'll learn valuable skills to go from hectic & stressed, to productive, resilient and happy!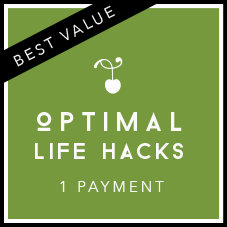 Here's what you get:
Daily practical hacks that can change your life in under 3 minutes
Skills to manage your time smarter so you can achieve more in less time
Recipes for healthy foods, ways to stay hydrated and techniques to get great sleep
Movement videos and plans to be fitter and stronger without having to find extra time to exercise
Guided meditation sessions and mindfulness techniques to handle stress on the go
Inspiration to dig into your emotions, relationships and environment to bring out positivity, calmness and fulfillment
Members-only site to ask questions and network with other Optimal Life Hackers
Lifetime access anytime, anywhere on your smartphone, tablet or computer
It's fast, simple and effective
We'll email you 5 hacks each week. You get 1 hack for each of the 5 pillars of Mindfulness, Organise, Nourish, Movement and Inspiration. Each Hack takes just 3 minutes or less.
Hacks are sent to your email in bite-sized pieces, with full details and resources to put the hack into practice on your members-only site.
The program includes sound tracks, workout videos, cheatsheets, recipes, posters and much more.
Each week the 5 life hacks focus on a specific theme to help you achieve real-life results that can change your life.
After the 12 weeks you will complete the program feeling more productive, less stressed, healthier and happier – truly living your optimal life!